Happening at Faith Ministries Church in Douglas AZ
2013 Mexican Vacation Bible School
Faith Family Reunion, Coming in July
Christmas 2013, Preparations Underway
June 2013 Excitement on the Border, from Calvin and Barbara. Eight Days in May.
May 2013 Newsletter Whose Side Will We Stand With, from Calvin. News from Bob and Miki.
Happening at FMC
Sunday May 12, 2013 Godly Moms Are Praying Moms by Mitch Nelson

Sunday May 19, 2013 Heaven part 2, by Calvin Scott

Download Event(s) Calendar(s) and Bible Reading Plan(s)

Faith Ministries Church Events Calendar - May 2013

Bible Reading Schedule - May 2013

You will need Adobe Reader to view calendar or Bible reading files. Get Free Adobe Reader now.
2013 Vacation Bible School Update
Praise to the Lord and thanks to our s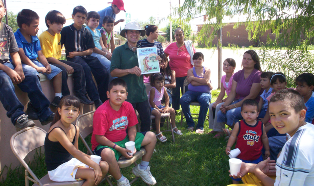 upporters, we ordered materials for 4,020 children. We have delivered ½ of it and will deliver the rest within the next few weeks. Watch for VBS reports in the next few months.
Faith Familhy Reunion
Worship - Changing the Atmosphere
You are invited to our 9th annual Faith Family Reunion at:
Faith Ministries Church
901 11th Street
Douglas, Arizona
July 27-28, 2013 – All Services will be bilingual and meals are provided.
Faith Family Reunion 2013 Schedule of Events

Saturday

Sunday

8:30 AM Breakfast
8:30 AM Breakfast
10:00 AM Worship
10:00 AM Worship
1:30 PM Lunch
1:30 PM Lunch
6:00 PM Worship. Food and fellowship following.
Following the tradition of our meetings, the schedule will be flexible. We come together to worship the Lord and hear from Him. Join our friends from Mexico and the USA where you will see old friends and meet new.
Best Western
199 East 7th Street
Douglas, AZ 85607-2877
(520) 364-5000
bestwestern.com
Free Breakfast, pool, fitness facility.

Gadsden Hotel
1046 G. Avenue, Douglas, AZ USA 85607
520-364-4481
hotelgadsden.com
Restaurant on property.

Motel 6
111 16th street, Douglas, AZ USA 85607
520-364-2457
motel6.com
Children under 17 free. Pool / Pets Welcome.

Travelers Lodge
1030 19th street, Douglas, AZ USA 85607
520-364-8434
Pool / No pets. Restaurant on property.

Douglas RV Park
1372 East Fairway Drive
Douglas, Arizona
520-417-7339
douglasrvpark.com
Twin Buttes Mobile Home and RV
4912 W Highway 80
Douglas AZ 85607
520-364-7075
twinbuttesrvpark.com
Christmas Coming Soon
After watching a drama about the birth of Jesus, the children ask Jesus come live in their hearts. As they pray this prayer, we see the light of the Lord flood their countenance.
Never, during the time we have been promoting Christmas programs, have the programs been more important than they are now. So many people of Mexico are hurting because of the drug wars – so many fatherless children! These programs and little gifts, complete with scripture guide to salvation, bring the Good News of the Gospel and joy to the people. They know God loves them because His people love them.
We bought a lot of toys on our last trip to Navojoa. We spent $1,000.00 more than we have in our Christmas fund. We know it will come in and we need to buy toys when we are in the right place to buy them. It is necessary to shop the whole year to have all we need by Christmas. We are working on our stockpile for the Navojoa and Cumpas areas. Thank you for your part in making this awesome outreach possible.
We will not hide these truths from our children; we will tell the next generation about the glorious deeds of the Lord, about His power and His mighty wonders. Psalms 78:4 NLT
Christmas 2013 Toy and Monetary Goals

Goal

Have

Still Needed

Boy Toys

7,000

2,445

4,555

Girl Toys

7,000

917

6,083

Funds for Toys, Candy, and Distribution

$35,000.00

$1,810.00

$33,190.00